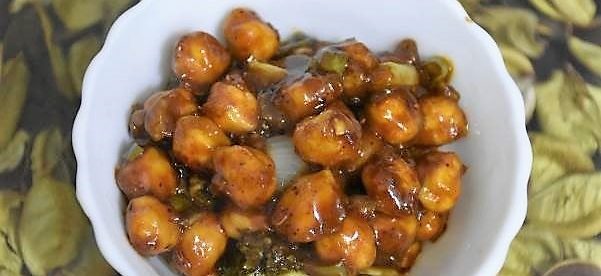 Chickpea is always considered for the preparation of chola or chat recipes, but giving a twist in it to make it more sumptuous by simply adding chilli  flavor, process is similar to other chilli recipes, except I've boiled it, to make it tender. Let's follow the process to prepare this recipe.
Watch Chickpea Chilli | Indo – Chinese Style 🥡🍲 | काबुली चना चिली recipe video on YouTube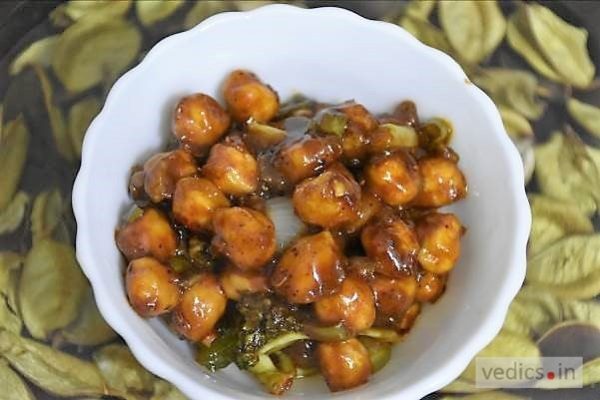 | | |
| --- | --- |
| | |
Take soaked chickpea and boil it, I've used microwave and boiled it for 20 minutes.

Strain water and put it aside.

Add cornflour, black pepper and black salt in the strained chickpea and toss it.

Heat a tbsp of oil in the pan and shallow fry it unless they turns crispy.

Remove chickpea from the pan and put it aside.

Heat oil in the pan and add chopped garlic and ginger.

Add chopped and diced vegetables in the pan.

Add salt and pepper in the pan.

Stir fry it for some time.

Add all the sauces and white vinegar in the pan.

Add chickpea in the pan and stir fry it.

Add cornflour and water mixture in the pan.

Stir fry it for some time.
Shubhra is young blogger, marketing and human resource professional. She loves being healthy and being human. You can see the sense of her interests in her articles. Shubhra is social! get in touch with her.