Litti Choka Recipe In Three Ways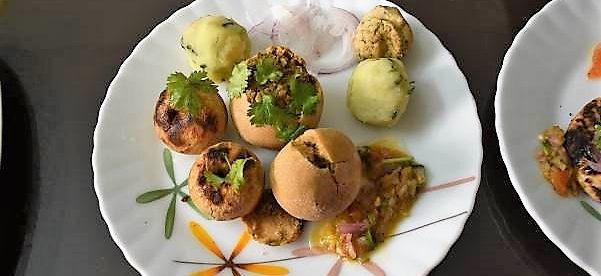 Litti chokha is the traditional recipe of Bihar (India), due to its amazing taste and healthy virtue it is a very famous street food of Indian subcontinent. Wontedly it is prepared using charcoal but nowadays it is not possible for everyone to follow such a lengthy and aboriginal process, hence I have come up with an idea to prepare this recipe in 3 ways, even chokha is non fried. Let's learn step by step process to prepare litti chokha recipe.
Watch Litti Chokha Recipe in Three Different Ways | लिट्टी चोखा 🍱🥣Recipe on Youtube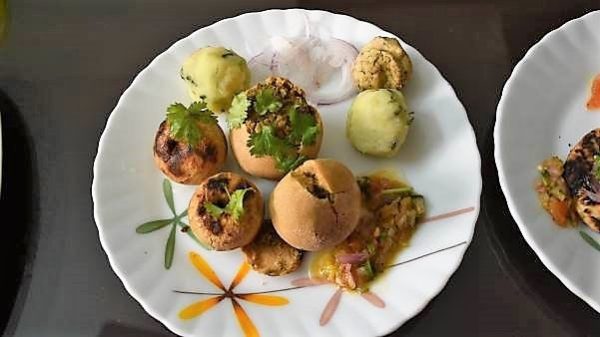 | | |
| --- | --- |
| | |
Knead the dough with wheat flour, it should be in the consistency of chapati dough.

Cover it with damp cloth and put it aside.

In another container take half a cup of roasted gram flour.

Add ajwain and mangrail in the same bowl.

Add pickle spice, salt, black salt, chat masala, kasoori Methi (Dried Fenugreek Leaves), chopped garlic, chopped onion.

Add chopped coriander leaves and rest of the ingredients.

Mix them well and prepare a mixture now add little water just to make it in a consistency to be filled easily.

Take the dough and prepare ball shapes.

Take a dough ball and make it like a bowl for putting filling mixture inside it.

Put the mixture and prepare dumplings.

These shapes are for wire roaster.

All the three ways dumplings are ready.

Take the wire roaster and heat it unless it turns red, now lower the flame and put litti over it.

Secondly take appam tray and put the small sized litti dumplings and let it get roasted.

Thirdly place a butter paper in the microwave and put the litti dumplings above it and under convection with 180 degree place it for 20 to 25 minutes each sides.

When it gets cooked on wire roaster take the dumpling and wipe it with cotton cloth and it is ready.

On appam tray keep turning them so that they can get cooked from both the sides.

Finally microwave litti is also ready

For plating, place the wire roaster litti as shown in the image and put onion slices above it, in the middle place slit green chilli, place coriander leaves and garnish it with clarified butter. place chokha as shown in the image.

Another way place litti and make a hole, drizzle clarified butter and embellish it with all the ingredients.
Shubhra is young blogger, marketing and human resource professional. She loves being healthy and being human. You can see the sense of her interests in her articles. Shubhra is social! get in touch with her.