Chaitra Navratri, Gudi Padwa & Ugadi/Yugadi Festival And Their Significance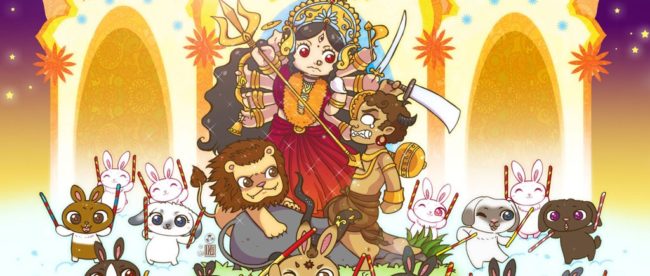 We know our country is the concoction of diverse culture, we respect others and offer compassion for all the living and non living things. Our culture is filled with numerous traditions but we never coax it on nonbelievers. Our divine scriptures bestowed a sense of respect for nature and suggest us to accept changes for better living. We celebrate several festivals and every festival has its own significance.
Coming to the topic, Here I've tried to focus on the significance of  Chaitra Navratri, Gudi Padwa and Ugadi/yugadi festival and how they are celebrated, what are the stories related with them and cultural significance they reflect.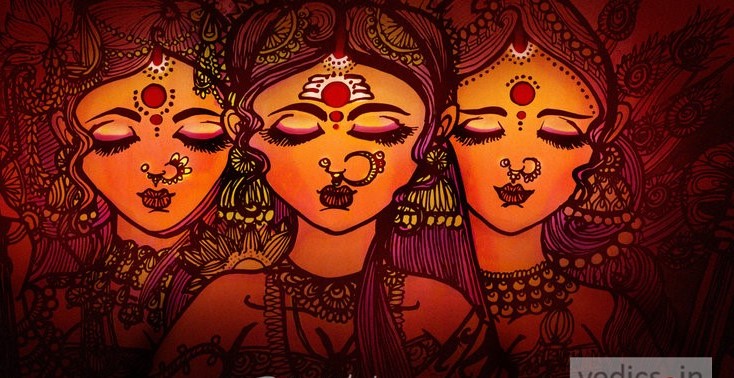 Chaitra Navratri:
Chaitra Navratri is celebrated for nine days in the name of Goddess Durga, during the festival Ghatasthapana (घतस्थापना) has its own significance. Devotees keep fasting to seek the blessings of Devi Durga, It is observed that during this month mother nature encounter big changes climatically, so keeping fast during this time period prepare us for summer season, it keeps our body active and mind spiritually inclined. Chaitra Navratri which falls in the month of March-April is considered as the beginning of Hindu new year as this is the first month according to Hindu calendar.
Chaitra month is eloquent due to Lord Rama's birth, on the 9th day of chaitra sukla paksh (चैत्र शुक्ल पक्ष) we celebrate Ram navami. This month is paramount for Hanuman bhakts as well, since chaitra purnima (चैत्रा पूर्णिमा) is the day of Hanuman jayanti. The 6th day of navratri is considered as chaity chhath puja specially being observed among the people of eastern part of India (Bihar), all the rituals are almost similar like the (शरद) sarad chhath puja. Hence this month is considered sacred. The day begins with ritual bath, cleaning of houses, ghatasthapana, bhoga offering to God and Goddess. Navratri is the duration of contemplation and self realization, it is considered good time for any new venture.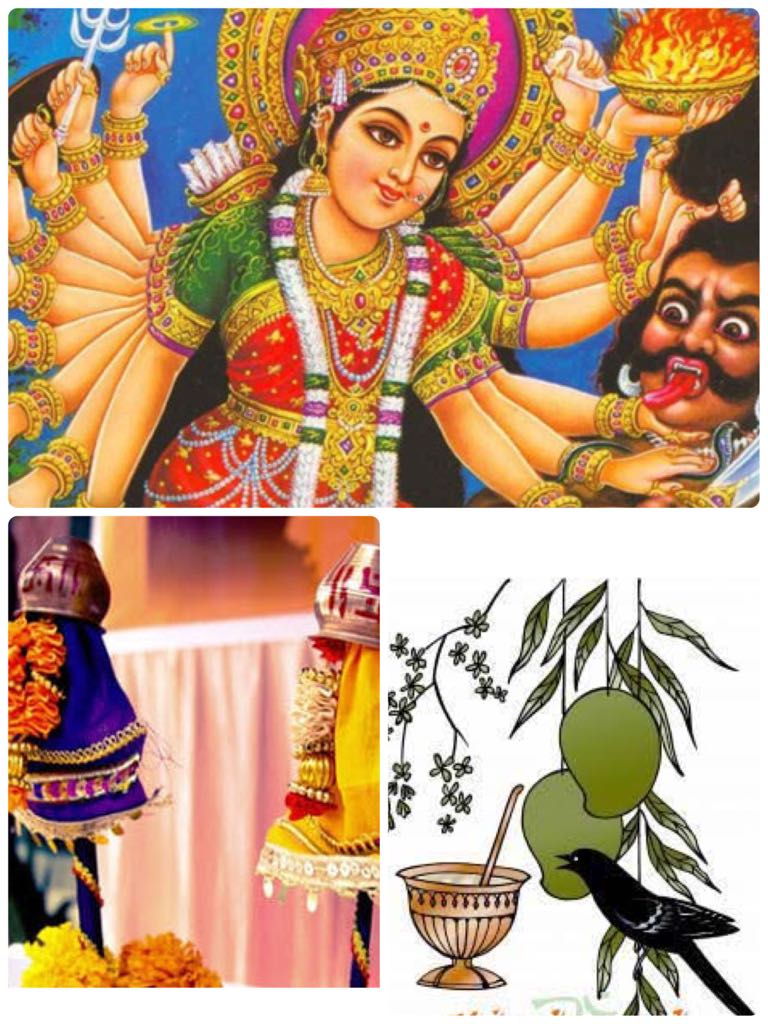 Gudi Padwa:
Gudi padwa (चैत्र शुक्ल प्रतिपदा) is celebrated on the first day of chaitra month specially in Maharashtra (India) to mark the beginning of hindu new year. This month marks the proliferation of fruits, agricultural harvest, new way to resurrect from the old flowers and leaves, as it is onset of spring season. According to Brahma puran it is the same day when Lord Brahma created this world, and on the same day Lord Rama returned to ayodhya (अयोध्या), so people decorate gudi, with colorful cloths and flowers and put a copper kalash (कलश) over it, to appease lord vishnu. This day is also auspicious for vaastu puja (वास्तु पूजा)  and inauguration of new business. People prepare paste of neem leaves and jaggery to start their day, houses are decorated with toran and rangoli designs are prepared on the main entry of their houses, to get good luck. Sweet dishes like puran pauli, Shrikhand etc being prepared.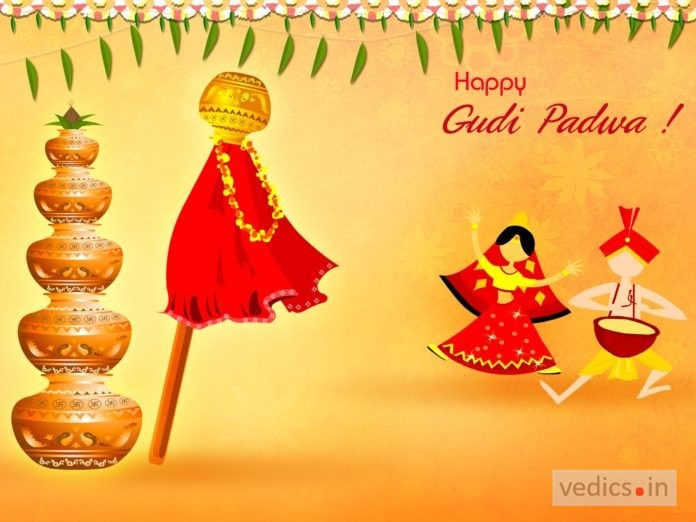 Ugadi/Yugadi:
The word yugadi/ugadi has been derived from two word yug meaning age and aadi meaning beginning. It is celebrated in the states of Andhra pradesh, karnataka and Telangana (India), according to lunar calendar this festival indicates the beginning of new year, on this day people prepare ugadi pachadi, which contains neem leaves, neem flower, jaggery, tamarind, salt, green chili and raw mango pieces, which indicates that the journey of whole year will be filled with all the tastes this pachadi (chutney) contains, like happiness, bitterness, anger, sorrow, surprise and fear. People take head bath and prepare delicious dishes. People read Panchang to know their whole year prediction.
In Punjab and Haryana  this festival is known as Baisakhi, in Kashmir it is known as Navreh, Eastern and Northern part of India celebrate chaitra Navratri, Sindhi people call it chati chand, Yugadi in Kannada and Ugadi in Telgu. But the essence is same, they all welcome the new year with different celebration and different names, that's why we Indian's are called for their unity in diversity.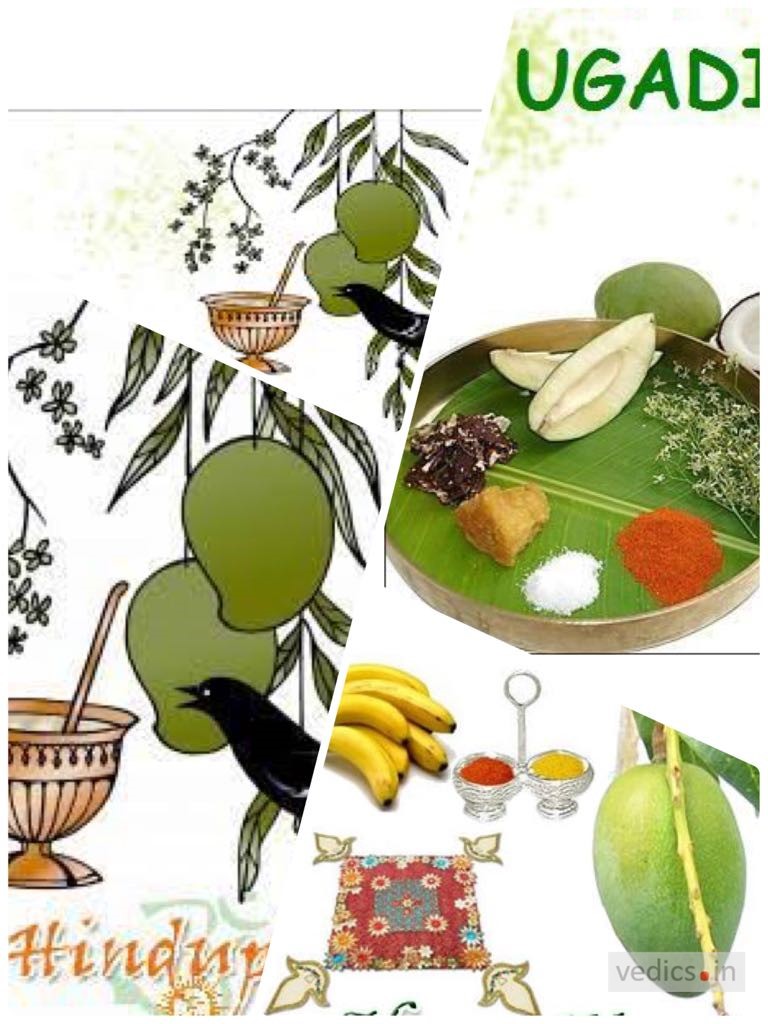 Shubhra is young blogger, marketing and human resource professional. She loves being healthy and being human. You can see the sense of her interests in her articles. Shubhra is social! get in touch with her.