Chow Mein Recipe – Indian Twist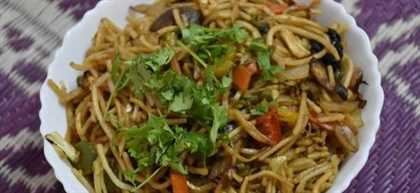 Chow mein which is very common street food of India, originally belongs to the people of Taishan, a city located in the South west of Jiangmen in the province of Guangdong China. It is basically fried noodles with concoction of vegetables. Generally as per the taste and flavor people adds or removes the ingredients for instance in Hong Kong people generally cook this recipe very crispy, but as we know the saying that water and language changes its test and verdicts after every mile, so does the flavor and aroma of food.

Print Recipe
Chow Mein
Ingredients
3

cup

Water

1

cup

Raw Chow mein

1

cup

Vegetable Oil

1

tbsp

white vinegar

1

tbsp

Each Soy sauce, Tomato Sauce and Chili Sauce

1

cup

Chopped Cabbage

1

tbsp

Each Red Yellow and Green Bell pepper (Capsicum)

1

tbsp

Chopped Carrots

1

tbsp

Choped Spring Onion

1

tbsp

Chopped Onion

1

tbsp

Chopped Coriander leaves

1

tbsp

Mushroom

1

tbsp

Ginger Garlic Paste
Instructions
Boil water in a pan and add 1 tbsp of salt and 1 tbsp of vegetable oil, followed by chow mein in the same pan.

Take all the vegetables as shown in the image.

Heat oil in a pan and add all the vegetables along with garlic ginger paste and cook it for sometimes.

Add boiled Chow mein in the pan and mix 1 tbsp of salt.

Take all the sauces as shown in the image and as these sauces contain its own salt so add little salt in this recipe.

Add all the sauces in the recipe and cook it for sometime.

Add chow mein masala in the recipe and mix it well.

Mix it well and your recipe is ready.

Serve the recipe garnishing it with Coriander leaf.
Shubhra is young blogger, marketing and human resource professional. She loves being healthy and being human. You can see the sense of her interests in her articles. Shubhra is social! get in touch with her.