Non Fried Soya Chunks Kofta Recipe Without Onion-Garlic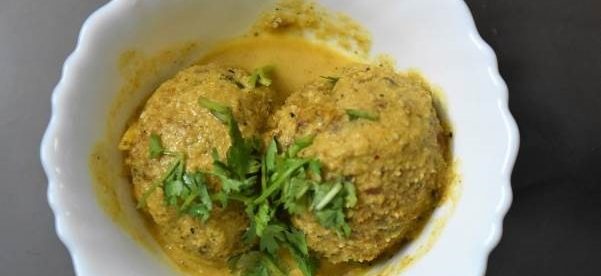 Kofta recipe derived its name from Persia, it is called as Kufta or kuftan which is a minced meat ball, kofta is famous recipe of South Asia and Middle East. But as we know any recipe which traveled and reached India got its vegetarian version. I have used soya chunks for this recipe without using onion and garlic into it, let's learn step by step process to prepare this recipe.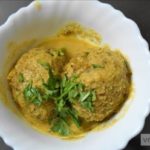 Print Recipe
Soya Chunks Kofta Recipe Without Onion-Garlic
Ingredients
1/2

cup

Soaked chana lentils

1

cup

Soya Chunks

2

Piece

Potatoes

1

tbsp

Chopped Coriander leaves

1

tsp

Asafoetida

1

tsp

Cumin Seeds

2

tbsp

Curd

1

tbsp

Mustard Oil

2

tbsp

Chopped Tomatoes

1

tsp

Green Chili

1

tbsp

Coriander Seeds

1

tsp

Black Pepper Powder

1

tsp

Black Salt

1

tsp

Chat masala powder

1

tsp

Dry roasted Cumin and carom seeds Powder

1

tsp

Chopped Ginger
Instructions
Boil half a cup of soaked split yellow gram lentils along with soya chunks and potatoes. After they get boiled strain water and let them cool down.

In a grinding jar add tomatoes, coriander seeds, green chilies and ginger and grind them.

It should be in the smooth consistency as shown in the image.

Add 2 tbsp of curd in the grinding jar.

Sprinkle some chat masala powder, black pepper, black salt, roasted cumin and carom seeds powder in the same jar and grind them once again.

This time it will become little dilute.

As the ingredients on the strainer cools down, peel off the potato cover and grind them all together.

Add all the spices like salt, roasted cumin and carom seeds powder, garam masala powder, kashmiri mirch powder, chat masala powder, turmeric powder, coriander powder, cumin seeds, kasoori methi, black pepper powder, chopped coriander leaves.

Now grease appam tray with mustard oil.

Prepare kofta as shown in the image.

Flip it over after few minutes.

In a pan add asafoetida and cumin seeds and let them splutter.

Add mustard oil in the pan.

Add the grind paste in the pan and cook them.

Add salt, turmeric powder and garam masala powder and cook the gravy.

In a service bowl add koftas.

Dribble curry over it.

Sprinkle few chopped coriander leaves and serve it.
Shubhra is young blogger, marketing and human resource professional. She loves being healthy and being human. You can see the sense of her interests in her articles. Shubhra is social! get in touch with her.