Vasant Panchmi – Saraswati Puja (Things you should know)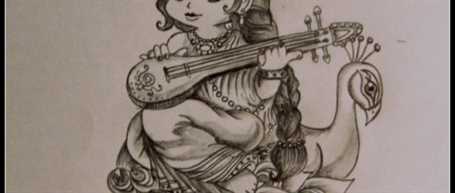 Vasant Panchmi is very significant festival of India, and it is celebrated every year on the 5th day of Magh which is also the first day of spring according to Hindu calendar. The importance of the day lies in the worship of Goddess Saraswati, who  bestows knowledge and wisdom.
The legends has it…
According to Matsya Purana Goddess Saraswati evolved from the mouth of Brahma and hence due to extreme power and knowledge she fled in every direction as she saw Brahma eyes are stagnant on her, hence she took the shelter of lord shiva and hence Brahma's 5th head beheaded as it was his ego.
According to Brahma Vaivarta Purana Lord Krishna blessed Goddess Saraswati, that on the event of Vasant Panchmi she will be preached, so after lord Ganesha, Sun, Vishnu  And Shiva, Goddess Saraswati is worshiped.
Another popular belief says that, the origin of this festival is in Aryan period, Aryans came and settled in India from Khyber Pass crossing the Saraswati River, as this river was the main source of their living hence they started preaching it as the Goddess of knowledge.
According to another  legend a very proud princess got married to Kalidas due to the conspiracy of Brahmans, as they wanted to teach her a lesson, so they searched Kalidas as most foolish person as he was cutting the same branch of the tree where he was sitting, hence they took him in front of her and presented him as very intelligent person but on the very first night she realized that she has been duped and hence she ousted Kalidas, and Goddess Saraswati blessed her and after that he became poet.
But apart from all these legendary story, this festival carry very significant importance in our culture, people preach Goddess Saraswati the virtue of wisdom, compassion and knowledge. People do the charity and feed the brahmans, Significance of wearing yellow colored clothes indicate the ripening of crops. This festival is the starting of Spring season and it is celebrated by applying gulals and decorating houses with rangoli (Abeer).
Goddess Saraswati Pics
Shubhra is young blogger, marketing and human resource professional. She loves being healthy and being human. You can see the sense of her interests in her articles. Shubhra is social! get in touch with her.