Aloo Tamatar (Potato and Tomato) Curry With Puri Recipe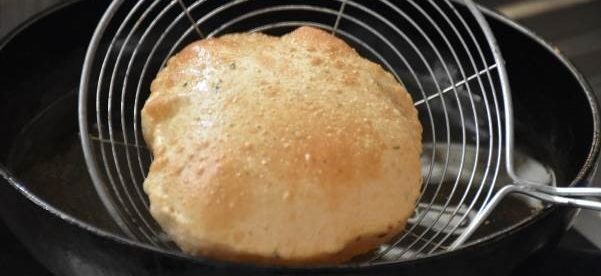 Aloo tamatar curry with puri is complete Sunday brunch, if you feel like skipping breakfasr then try this brunch it will be delightful to have such a nice recipe let's learn step by step process.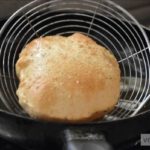 Print Recipe
Aloo Tamatar Curry & Puri Recipe
Ingredients
For Puri
1

cup

Wheat flour

1

tbsp

Celery Seeds (Ajwain)

1

cup

Vegetable Oil

1

tbsp

Kalonji or Mangrail, Black Caraway, Nigella,

1/2

cup

Water

1

tbsp

kastoori Methi (Dried Fenugreek Leaves)
For Aloo Tamatar (Potato and Tomato) Curry
3

Medium Size

Potatoes

1

cup

Chopped Tomato

1

cup

Chopped Onion

1

tbsp

Chopped Green chili

1

tbsp

Salt

1

tbsp

Turmeric Power

2

tbsp

Mustard Oil

1

tbsp

Cumin Seeds

1

tbsp

Coriander Leaves
Instructions
Take wheat flour and add all the ingredients in it.

Knead the dough as shown in the image.

Cover it with damp clothe and put the lid on, let it rest for 1 hour.

Now take boiled potatoes (I've used 3 medium sized potatoes) and with the help of hand break it into pieces. (Note: Do not use knife for cutting potatoes as it will change the taste)

Heat 2 tbsp of mustard oil in a pan and add cumin seeds let it tamper.

Add roughly chopped onion and let it turn golden brown.

Add chopped tomatoes, chopped green chili and fry it for 5 minutes.

Add turmeric and salt and let it cook for 2 more minutes.

Add roughly broken chunks of potatoes and mix it.

Add half a cup of water and cook it for 5 minutes.

Garnish it with coriander leaves and serve it.

After an hour put the lid out and remove the damp clothe from the dough of puri, prepare small puri shapes as shown in the image.

With the help of rolling board and rolling pin prepare the puri shapes.

Heat oil in a pan and fry it.

Remove it with the help of frying spoon and let the oil drag down in the pan, serve it hot with aloo tamatar curry.
Shubhra is young blogger, marketing and human resource professional. She loves being healthy and being human. You can see the sense of her interests in her articles. Shubhra is social! get in touch with her.