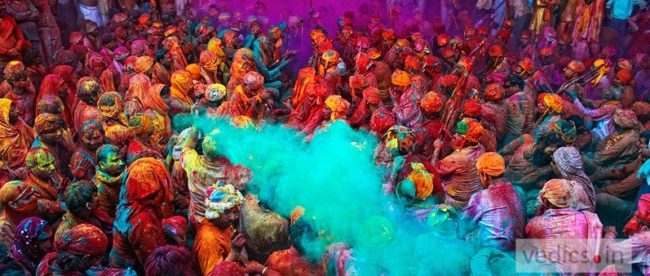 Holi (होली) is the festival of colour, love and joy, this festival is also known as Holika (होलिका) or Phagwa (फगवा) as it is celebrated after full moon day of Hindu calendar Phalgun (फाल्गुन) i.e. month of February-March. Holi is also known as spring festival of Hindus, and colours indicate the significance of mother nature which is proclaimed in the form of colourful flowers, aromatic fruits and chirping of birds. Holi is the beginning of Hindus new year with new hope, new life as nature shows how to  resurrect from old leaf and flowers, so it indicates that we should forget our grudges and regrets and embark our new journey.
Holi Festival Rituals:
A night before holi public bonfire is held where old woods being collected and burnt commemorating holika dahan (होलिका दहन), it is a sanctimonious ritual which indicates the burning of evil and bad thoughts like vanity, egoism etc. On the day of Holi people worship lord Krishna, lord Shiva and apply colours. People clean their houses and cook delicious food, visit among relatives and friends to help them celebrate this joyous festival.
Legendary Story of Holi Festival:
Decades have changed the pace of this festival, but still rituals have the same earthy aroma, In Narad purana (नारद पुराण) and Bhavishya Purana (भविष्य पुराण) there are verses of Holi festival. Even in early religious works like Jaimini's Purvamimamsa Sutra (जैमिनी पूर्वमीमांसा सूत्र) and Kathaka Grhya Sutras (कथाका ग्रहया सूत्र), there is detailed description of this festival. In the book of King Harsha i.e. Ratnavali (रत्नावली) of 7th century B.C. this festival is being explained.
According to Bhagwat Purana (भागवत पुराण), there was a Demon King Hiranaykashyapu (हिरण्यकशिपु) who had an immense desire to become immortal and hence initiated unbreakable penance (Akhand Tapashya) अखंड तपस्या to appease Lord Brahma, who didn't promise him about immortality.
But due to cunning nature Hiranayakashyapu asked for five super power boon, that is he can not be killed by Human beings, Devatas or animals, neither indoor nor outdoors, neither at day nor at night, neither by ashtra ( launched weapons) shastra (handheld weapons), neither in land nor in water or air.
After listening to this Lord Brahma said tathaashtu (तथास्तु ) (happen like this). After this boon Hiranayakashyapu thought he is invincible and he got filled with arrogance and decreed that only he will be worshiped none of the God's and Goddess will be worshiped in his kingdom.
Those who do not obeyed got killed by him, but this order was not acceptable to Prahalad (प्रह्लाद) the son of Hiranayakashyapu. Prahalad continued to worship Lord Vishnu, which was not acceptable by his father and hence he called his sister Holika, who got a boon from Brahma that no fire can burn her, so as per the order of his brother she sat in fire with prahalad on her lap but instead of prahalad she got burnt, because Prahalad was a great devotee of Lord Vishnu who shaved him as he started chanting the mantra (Om namo bhagwate vasudaye) ओम् नमो भगवते वासुदेवाय .
Hiranyakashyapu got this information and called his son for trial. Prahalad kept chanting mantras and appeasing Lord Vishnu in front of his father, which annoyed Hiranyakashyapu. But for saving Prahalad Lord Vishnu appeared in the form of Narmshimha (नरसिम्हा) (half human – half furious Lion) with his mace smashed the court pillar and following a tumultuous sound killed Hiranyakashyapu without breaking Brahma boon as he was neither human nor animal, that time was neither night nor day, the place was neither indoor nor outdoor as it was doorpost through the mace. Hiranayakashyapu got moksha ( Free from rebirth cycle).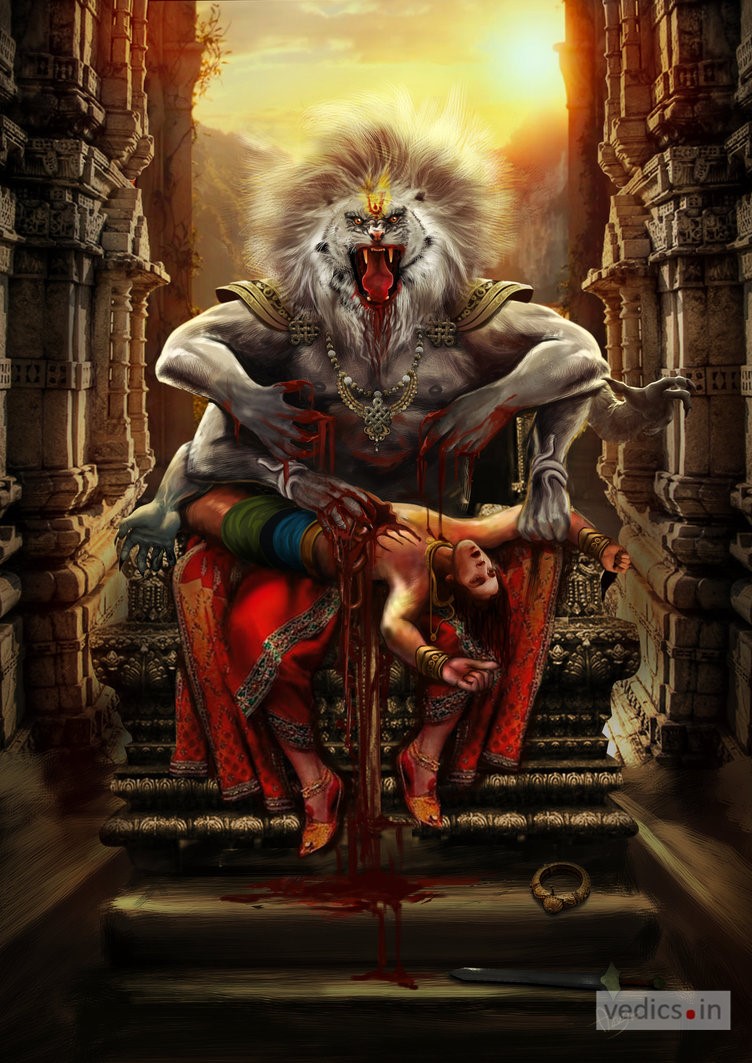 Another story of Holi festival is burning of Kaamdeva (कामदेव) due to Lord Shiva (शिव) third eye power. Devtas wanted Paarvati (पार्वती )to get married to Lord Shiva, but Lord Shiva was under deep meditation and he refused to get married again, so devatas went to Kaamdev to convince lord Shiva for marriage. But instead of this Lord shiva opened his third eye which burnt Kaamdeva into ashes, which indicates the burning of lust and desire. Hence holi festival is celebrated.
Another story indicate the Dolyatra which is associated with Lord Krishna, as lord krishna played holi with Radha, and Gopies with flowers, colours etc. The colours indicates love of lord krishna and Radha. So people of Vrindavan play flower holi. In bangal people put laddugopal on swing to appease lord Krishna.
Happy Holi from Vedics family. 🙂
Shubhra is young blogger, marketing and human resource professional. She loves being healthy and being human. You can see the sense of her interests in her articles. Shubhra is social! get in touch with her.