Navratri – Things You Should Know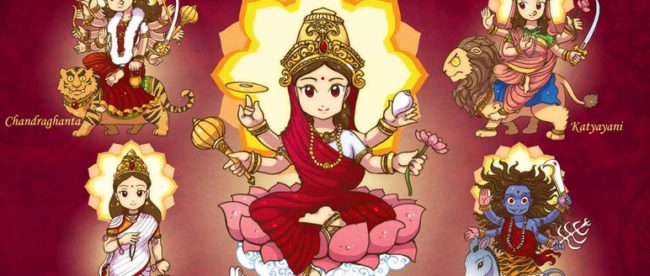 Jai Mata ki (जै माता की)! I know this is very intense topic to discuss, It is just a cipher effort to display some information, because the enigma of this knowledge is extremely erudite. But still I'm trying to put forth some information that may be helpful to understand what is Navratri, who is Adi shakti (आदि शक्ति), what is Devi Mahatmaya (known as Durga Saptsati or Chandi Path). Durga Saptsati text contains 700 verses which is displayed in 13 chapters, these verses contains the story about good over evil power, Adi Shakti (आदि शक्ति) is very powerful and ruthless on devils. Because when there were intense wrathful condition embarked by evil then all powerful devtas and Gods concentrated their power and incarnated the Adi Shakti (आदि शक्ति) known as Maa Durga, as she is very powerful and beautiful so people preach her to discard their troubles in life, even during Navratri people do shiddhi (सिद्धि ) which is very mysterious, but most of us preach Maa durga for getting rid of troubles of our life and get success, happiness and prosperity.
Watch Video of Most Beautiful Navratri Message | दुर्गा पूजा की शुभकामनाएँ 🙏 on YouTube
According to Markandeya Purana:
Markandeya is the name of a sage who wrote this purana, which is considered as one of the major purana among eighteen other puranas. This purana is the conversation and description of several riddles, which general people can not understand without the surveillance of erudite guru.
Types of Navratri:
The name itself suggests the 9 forms of Shakti (शक्ति) which is being preached during hindi lunar months. These are as follows:
Basant or Chaitra Navratri: This navratri falls in the month of March – April and it dedicates to goddess Durga and her nine forms, on 6th day of this festival chaitra chath puja is celebrated also know as chaiti chath, the 9th day is Ram Naumi which is considered as the birthday of Lord Ram.
Gupt Navratri: This navratri falls in the hindi month of Ashadha which comes in June-July, this festival is considered most prolific for those who wanted to do tantra sadhana although all these navratri is good for the sadhna but this month is considered the most important. This navratri starts with shukla paksh (waning of moon).
Ashwin Navratri: This navratri is also know as sharad navratri and falls in the month of September-November, after the completion of 9 divine days on 10th day people celebrate vijay dashmi which is considered as the victory of good over evils. People celebrate this festival by burning the puppet of Ravana (who portrays evil powers).
 Poushya Navratri: This navratri falls in the month of December-January and the waning moon of the poushya month is the starting of this navratri (There is contradiction in this navratri).
Magha Navratri: This navratri falls in the month of January-February the waning moon of this month marks the beggning of this navratri.
Although nowadays due to unflur of beliefs and culture everywhere this festival is popular but basically Devi Mahatmaya has been famous and solemnized in the Eastern States of India like West Bangal, Bihar, Jharkhand, Orissa, Assam and even in Nepal  which was once the Hindu country.
I know I wrote very little, and this is just a drop in an ocean of intense repository of knowledge, I will keep probing more about this and will write in the coming posts.
Shubhra is young blogger, marketing and human resource professional. She loves being healthy and being human. You can see the sense of her interests in her articles. Shubhra is social! get in touch with her.