Pedakia (Gujiya) Recipe – Khoya Flavor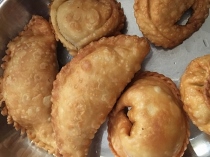 Pedakia aka Gujiya is a popular Indian sweet prepared during festive seasons such as Teej & Holi. It's exciting to prepare and tastes awesome. Khoya (Mawa), all purpose flour and dry fruits are the common ingredients to cook Pedakia recipe. Let's understand one of the easy method to prepare it.
Ingredients
All purpose flour – One cup
Khoya (Mewa) – Half cup
Sugar – Five tablespoons /As per your taste
Dry fruits – Cashew nuts, raisins, pistachios, almonds.
Condensed milk – Two tablespoons
Refined oil
Preparation
Heat a non stick pan and add khoya until it is melted and golden brown in color. Don't add any oil or water into the pan.

Once the khoya becomes a paste, add dry fruits and condensed milk into the pan and keep stirring

Finally add sugar and let it mix. Switch off the flame and let the mixture cool.

Take the all purpose flour dough; split in into small balls and form the shape of small chapatis with the help of rolling board and pin.

Put khoya mixture inside the round chapati, close it forming the dumplings (shapes as shown in the photographs).

In another pan take two cups of refined oil and heat it.

Fry all the dumplings.

Perakiya or Gujiya is ready to eat!
Preparing Pedakiya – Step by Step Tutorial
Shubhra is young blogger, marketing and human resource professional. She loves being healthy and being human. You can see the sense of her interests in her articles. Shubhra is social! get in touch with her.