Potato Capsicum Gravy | लोहे की कढ़ाई वाली आलू-शिमला मिर्च की सब्ज़ी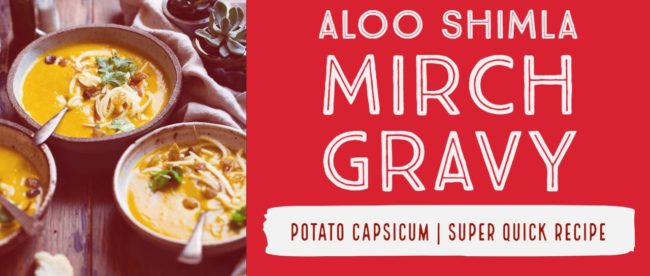 Potato and capsicum curry is very simple and easy choice, one can have it with any flatbread or rice dishes. We've tried a very unique blend of the spices to make it more aromatic and delicious, but it is not stodgy and always gives appeasing satisfaction. We have used Iron wok to cook this recipe, as usage of iron wok has many health benefits, one can use this wok to get dark color to the recipes even. Let's learn step by step process to prepare this recipe.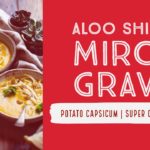 Print Recipe
Potato Capsicum Gravy | लोहे की कढ़ाई वाली आलू-शिमला मिर्च की सब्ज़ी
Ingredients
1

Piece

Medium sized Chopped Capsicum

1

Piece

Medium sized Onion chopped

1

Piece

Small sized Chopped tomato

1

Piece

Slit Green Chili

1

Piece

Large sized Diced Potato

1

tbsp

Ginger Garlic Paste

1

tbsp

Chopped Coriander leaves

1

tsp

Coriander Seeds

1

tsp

Cumin Seeds

1

tsp

Salt

As per your taste

1

tsp

Turmeric Powder

1

tsp

Kashmiri Red chili powder

1

tbsp

Sabji masala powder

1

tbsp

Mustard Oil
Instructions
Take all the chopped ingredients.

Take diced potato, ginger garlic paste and coriander leaves.

Take all the spices as mentioned.

Heat an Iron wok.

Heat Mustard oil and add cumin seeds and slit green chili.

Add chopped onion in the wok fry them unless they turns golden brown.

Add chopped capsicum in the wok and stir fry them.

Add diced potatoes in the wok and cook them together.

When potatoes turns soft then add tomatoes and salt.

Add turmeric powder in the wok and mix them well.

Add kashmiri red chili powder, water and cook it by putting the lid on for ten minutes.

Keep stirring in between.

Switch off the flame and sprinkle coriander leaves in the wok.

Serve it hot with any main course recipe.
Shubhra is young blogger, marketing and human resource professional. She loves being healthy and being human. You can see the sense of her interests in her articles. Shubhra is social! get in touch with her.