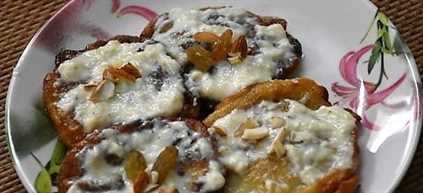 Malpua is the famous recipe of (Bihar) India, Without Pua no auspicious moment embarks, Either it is Holi (Colour festival), Vasant panchmi or sudden arrival of guests, Pua is a traditional sweet dish which is must to be served. Pua basically contains all purpose flour, ghee, dry fruits, khoya and milk, but here I am using banana, and sugar syrup along with home made cream cheese. Let's learn how to canopy this dish.

Print Recipe
Rabri Malpua Recipe
Ingredients
For MalPua
1

cup

All Purpose Flour (Maida)

3

cloves

Cardamom

1/2

cup

Desiccated Coconut

1

tbsp

Almond

1

cup

Clarified Butter (Ghee)

3

Pieces

Bananas

It is optional

1

cup

Cream Cheese

Not mandatory to use

1

tbsp

Cashew nuts

Finely Chopped

1

tbsp

Resins
For Sugar Syrup
1

cup

Sugar

2

cup

Water

1

tsp

Cardamom Powder
Instructions
For Rabri heat half a liter of milk at very low flame keep reducing it by continuously stirring with spoon, when it become thick then turn off the flame and add 1 tbsp of sugar, rubri is ready.

For sugar syrup boil 2 cups of water with a pinch of cardamom powder in it and add 1 cup of sugar to make sugar syrup.The consistency should not be very thick, and even not much sticky as shown in the image.

For making the batter of malpua take one cup of all purpose flour.

Take all the ingredients like chopped cashew nuts, desiccated coconut, cream cheese and a cup of milk.

Take bananas and mash it properly I've done this with the help of strainer.

Take a deep pot and add all purpose flour, a pinch of cardamom powder, milk, mashed banana, cream cheese, chopped cashew nuts, desiccated coconut, 1 tbsp of sugar and make a batter as show in the image, and put is aside for 1 hour.

Heat ghee or vegetable oil, and form the shapes of malpua using a spoon as shown in the image.

When it turns golden brown remove it and put it inside the sugar syrup.

Finally do the plating by applying rabri on malpua and garnish it with dry fruits and serve it.
Shubhra is young blogger, marketing and human resource professional. She loves being healthy and being human. You can see the sense of her interests in her articles. Shubhra is social! get in touch with her.