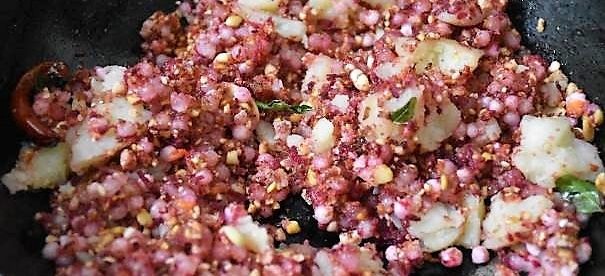 Adding a twist in a recipe doesn't discard its traditional rectitude, but it adds resplendent captivity. If one want to have some prodigal delight then should try this recipe. Let's learn step by step process to prepare this sabudana (Sago) khichdi.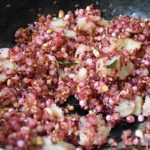 Print Recipe
Sabudana Khichdi Recipe
Ingredients
1

cup

Soaked sago seeds

1/2

cup

Boiled and crushed potatoes

1

tbsp

Grated Beetroot

1

tbsp

Grated Carrot

1

tsp

Cashew nuts

1/4

cup

Roasted and coarsely grind peanuts

1

tsp

Cumin Seeds

1

tsp

Curry Leaves

1

Piece

Dried Red Chili

1

tsp

Rock Salt

As per your taste

1

tbsp

Clarified Butter (Ghee)
Instructions
Heat clarified butter in a pan and add cumin seeds, cashew nuts, curry leaves and dried red chili.( Note: we can add potatoes also after tempering the ingredients to turn potatoes golden brown)

Coarsely grind roasted peanuts.

In the same pan add grated beetroot, carrot and grind roasted peanuts.

Mix all the ingredients well.

Now add rock salt in the pan and mix it well.

Add soaked sago and mix them well and keep stirring.

Mix all the ingredients well so that sago can acquire the color of beetroot.

Add boiled crushed potatoes in the pan and cook it for sometime. (Note: you can add these potatoes just after tempering the cumin seeds for its crunchiness)

Garnish it with coriander seeds and it is ready to be served.
Shubhra is young blogger, marketing and human resource professional. She loves being healthy and being human. You can see the sense of her interests in her articles. Shubhra is social! get in touch with her.