Spaghetti Curd Salad Recipe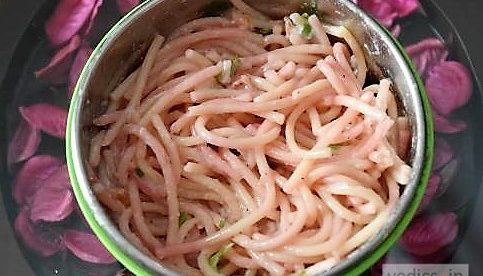 Salads are always preferable due to its roughage content and nutritional properties. I thought to bring some delight in salad recipe so that one can enjoy it, this salad recipe is free from oil and any preservative, so it can be preferable for diet conscious people. Let's learn step by step process to prepare this delicious salad.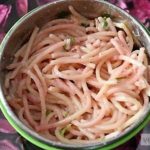 Print Recipe
Spaghetti Curd Salad Recipe
Ingredients
1

cup

Spaghetti

1

tbsp

Chopped tomatoes, capsicum, beetroot,coriander,tomatoes

any freshly chopped veggies as per your choice or availability

2

tbsp

Hung curd

Simply put curd on strainer to remove water cotent

1

tsp

Salt

1

tsp

Black Pepper Powder

1

tsp

Black Salt

1

tsp

Carrot, apple and beetroot juice

It is just to add flavor and color one can skip this
Instructions
Take spaghetti as per your choice, I've used semolina spaghetti, boil it adding a pinch of salt into it.

Put the curd on strainer and let it segregate water content.

In a bowl add strained and boiled spaghetti, followed by curd and chopped vegetables of your choice, sprinkle salt, black salt and black pepper powder.

Mix it well and drizzle a tbsp of apple, beetroot and carrot juice to garnish the salad.

Mix it well and refrigerate it for sometime, and salad is ready to be served.
Shubhra is young blogger, marketing and human resource professional. She loves being healthy and being human. You can see the sense of her interests in her articles. Shubhra is social! get in touch with her.