Vedic secrets of being healthy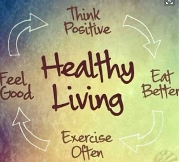 A quick answer to the question 'Who is healthy?' would be the person who eat healthy food.  Once upon a time 'Maharishi Charak' went for searching the answer of question who is healthy? After getting varied but dissatisfactory answers from all the Erudite people, he flew to a lonely place in a jungle and and met 'Vaidhya Vagbhatt' and asked the same question.
Then 'Vaidya Vagbhatt' replied; healthy is a person who is:
Hitbhuk
Food that is good for health and not according to the taste of tongue. This means we should have foods that are healthy for us and should avoid eating foods to satisfy our taste buds. Fresh vegetables & fruits, Cow's milk etc. eaten with appropriate combination should be treated as Hithbuk.
Mitbhuk
Eating food in proportionate quantity. Do not have excess food nor water.
Ritbhuk
Food that you and your dependents are eating must be purchased and cooked with honesty, love, passion and from your earned money. You will not be able to purchase food if you are invited to eat food by someone.That's fine as long as you respect the food and don't waste it and most important cooked food is 'Ritbhuk'.
There is no secret ingredient of being healthy. Its *you* who can be healthy by following the basics i.e. Hitbhuk, Mitbhuk & Ritbhuk.
Shubhra is young blogger, marketing and human resource professional. She loves being healthy and being human. You can see the sense of her interests in her articles. Shubhra is social! get in touch with her.