Beetroot Poori/Puri for Prashad Bhog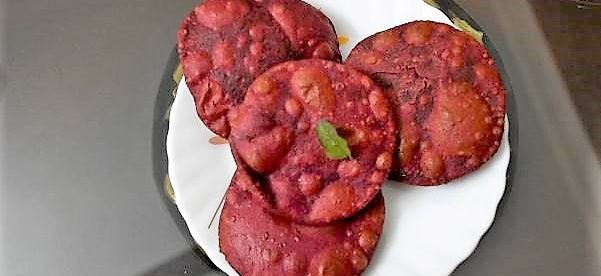 Poori or puri is a small sized fried flatbreads, they are generally prepared with wheat flour, here I've prepared this recipe for prashad bhog for Lord, hence I've not added onion seeds or kalaonji seeds into it, also for enhancing its texture I've used boiled beetroot as boiling the beetroot gives a good pigmentation to the recipe, even my process of kneading of poori dough is little different, if one follow this process then there would be no any requirement of extra dried flour or even oil while rolling it.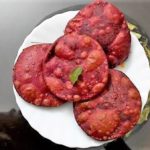 Print Recipe
Beetroot Poori/Puri for Prashad Bhog
Ingredients
1

Cup

Wheat flour

1

Cup

Roasted coconut oil

For frying

1

tsp

Rock salt

1

cup

Boiled beetroot

1

tsp

Celery seeds

1

tbsp

Clarified butter
Instructions
In a container add wheat flour, salt and celery seeds.

Add clarified butter into it and mash it with hand so that it can form a binding consistency.

In the mean time take Boiled beetroot, then peel it of and chop it, put in the the grinding jar to form a smooth paste.

Pour the paste of beetroot in the flour and form a dough.

Dough is ready cover it and put it aside.

After twenty minutes take the dough and divide it into equal parts and form small round shapes. With the help of rolling pin and rolling board prepare the poori shapes.

While rolling it I've not used any extra dry flour or extra oil, as this way of preparing dough will make it easily roll through, its little tricky but very amazing way to prepare poori, even this technique will save oil from turning filthy.

Heat oil and fry them.

Serve it in the bhog thali.
Shubhra is young blogger, marketing and human resource professional. She loves being healthy and being human. You can see the sense of her interests in her articles. Shubhra is social! get in touch with her.