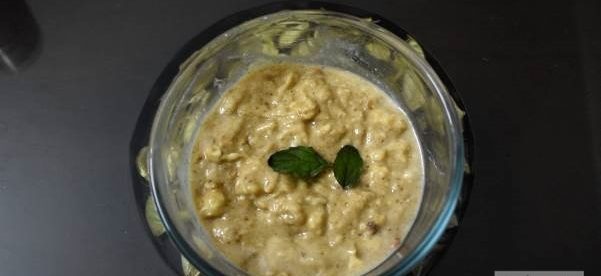 Malbhog prashad is generally prepared and offered to the lord Vishnu, this prashad recipe is famous in northern part of India, I have tried this recipe to appease my lord krishna. Even one can prepare this recipe during Krishna janmashtmi or Satya narayan pooja. Let's learn step by step process to prepare this recipe.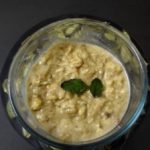 Print Recipe
Malbhog Prashad Recipe
Ingredients
1

Pieces

Bananas

Ripe banana

1

tbsp

Demerara sugar

Or any sugar of once choice

1

tbsp

Chopped Almonds

1

tbsp

Cashew nuts

1

tbsp

Raisins

1

Pinch

Cardamom powder

1

tbsp

Clarified butter

1

cup

Whole wheat flour

1

cup

Milk

2

Pieces

Holy basil leaf

For garnishing
Instructions
Take a bowl and add two bananas into it.

Mash them either with hand or with the help of fork.

Mean while heat a pan and add 1 tsp of clarified butter into it.

Add half a cup of whole wheat flour into the pan and roast it.

When it turns golden brown and a sweet aroma starts emitting from the flour then switch off the flame.

In the bowl add demerara sugar.

In the same bowl add chopped almonds and cashew nuts.

Add raisins & cardamom powder into the bowl.

Add roasted wheat flour in the bowl.

Mix them well.

Add milk and form a pudding like consistency.

Garnish it with holy basil and the prashad is ready to be served.
Shubhra is young blogger, marketing and human resource professional. She loves being healthy and being human. You can see the sense of her interests in her articles. Shubhra is social! get in touch with her.