War between Lord Shiva & Lord Rama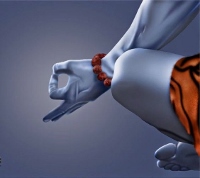 A war that went unnoticed among us. Shiva Purana mentions a war between Lord Shiva and Lord Rama in Treta Yuga (त्रेता युग).  In Ayodhya empire, Lord Rama's younger brother Satrughan took the lead of Ashwamedha yagna (अश्वमेध यज्ञ) and became undisputed winner. He also got support and assistance from great titans such as Lord Hanuman, Sugrew, son of Bharat Pushkal etc. Eventually, it was impossible for other Devtas (Gods) to win from them.
War prelude
Holy Horse associated with Ashwamedha yagna entered into Devpur state ruled by King Veermani; a great devotee of Lord Shiva and Lord Rama.
Horse entered into Devpur was forcefully captured by King Veermani's elder son Rukmang and aksed Ayodhya's army to inform Satrughan for a war to get this horse back. When King Veermani got to know about the deeds of his son he became worried about it and asked him to return the horse but his son told that it would be dishonor for both the parties.
When Satrughan came to know about this incident he agreed to fight a war with Devpur's army ruled by King Veermani. However, Lord Hanuman intruded and informed that King Veermani can not be defeated as Devpur state is protected by Lord Mahakal (Lord Shiva) and suggested not to fight with them without involving Lord Rama. But Satrughan replied that it would be a a shame if Lord Rama becomes  part of this conflict.
Satrughan ordered Son of Bharat 'Pushkal' (his nephew) to take the authority to free the horse.
A vigorous war took place and King Veermani's army was about to get defeated. Since Devpur state was protected by Lord Mahakal (Lord Shiva); King Veermani prayed Lord Shiva and asked him to save his state.
Start of the epic war
In response, Lord Shiva sent Veerbhadra (the incarnation of his Hair [जटा]) along with Bull Nandi (said to have power of millions of lion), Bhringi and his devotees (गण). They started fighting with Ayodhya's army. 'Pushkal' was killed by Veerbhadra.
Hence it became tedious for Ayodhya's army to win the war and then they prayed Lord Rama to join the war. However, it was tough to harm army sent by Lord Shiva (Gana) through normal weapons. Lord Ram decided to use divine and destructive weapon provided by Maharshi Vishwamitra.
In response, Lord Shiva's army prayed and asked the Lord to save them from that  divine and destructive weapon. Lord Shiva appeared in the battle field.
Every Devta (Lords) appeared in the sky to watch this epic moment and confrontation of two lords.
Conversation & war between Lord Shiva and Lord Rama
When Lord Rama saw Lord Shiva in the battle field, he put all his arms down and chanted Lord Shiva mantras and was grateful for every success he got previously. Lord Rama stated that 'whatever is happening is due to your wish my Lord; this Ashwamedha yagna was also solemnized due to your desire' and requested Lord Shiva end this war.
After listening to the aforementioned details Lord Shiva replied that 'Dear Lord, you're the incarnation of Lord Vishnu and I am not willing to fight against you. But I have blessed King Veermani who is my great devotee, that I will protect him and his place in every condition. I can not turn back! do not feel conscious and take this war forward.
Lord Rama took this as order of Lord Shiva and a divine & epic war took place. Lord Rama used every divine weapons but was unable to satisfy Lord Shiva. Lastly, Lord Rama used Pashupat weapon which carried the blessing of Lord Shiva that one who will use this weapon will never be defeated.
Since Pashupat weapon was blessed by Lord Shiva himself; he accepted this and felt satisfied.
As a result Lord Shiva asked Lord Rama for any wish. Lord Rama requested to give life to every warrior who were dead during this war.
Lord Shiva gave life to every dead warrior and the war came to an end.
Verdict
Holy Horse captured by Rukmang was returned to Ayodhaya, King Veermani gave his empire to his son and went with Lord Ram.
Moral of the story
A horse was the point of interest of this epic war. Even a small conflict can turn into a war resulting  mass destruction.
When you promise something; stand by it. Like Lord Shiva stood by King Veermani and protected his empire.
Always do what is right and favors religion (धर्म).
Images that will help you to understand who was who?
Lord Shiva
Lord Rama
Lord Rama
Lord Hanuman
Lord Shiva with Nandi Bull
Lord Rama & Lord Hanuman
Veerbhadra - An incarnation of Lord Shiva
Lord Shiva & River Ganga
Shubhra is young blogger, marketing and human resource professional. She loves being healthy and being human. You can see the sense of her interests in her articles. Shubhra is social! get in touch with her.